New exhibition - 'Overturning terra nullius: the story of native title'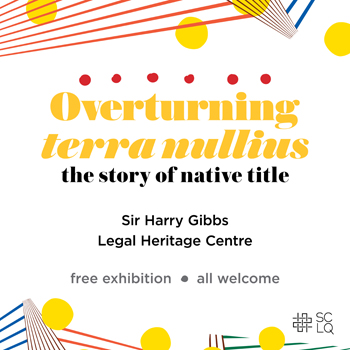 Supreme Court Library Queensland's new exhibition, 'Overturning terra nullius: the story of native title' is now open in the Sir Harry Gibbs Legal Heritage Centre, ground floor, QEII Courts of Law.
With Captain James Cook's declaration of sovereignty in 1770, all inhabitants of Australia became subject to the law of England and the native title rights of First Nation peoples to occupy, use and enjoy traditional lands were ignored. It would be over 220 years before the Native Title Act 1993 (Cth) would restore some legal recognition of these original and enduring rights nationwide.
Learn about the people and the two judgments that were particularly influential in shaping native title law reform:
Mabo v Queensland (No. 2) [1992] HCA 23, in which the High Court of Australia recognised the Meriam people's uninterrupted rights to land, and overturned the doctrine of terra nullius
Wik Peoples v Queensland [1996] HCA 40, in which the High Court ruled that native title and pastoral rights could coexist.
Free tours available for community and education groups—find out more.